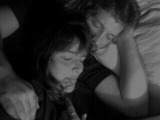 These sweet rolls are great fun for the kids sleep-over parties. Serve warm or at room temperature.
Directions
In a small saucepan heat milk with honey, stirring, over low heat just until lukewarm and remove pan from heat. Stir in yeast and let stand until foamy, about 5 minutes.
Add butter and yolks, whisking until combined well. Transfer milk mixture to bowl of a standing electric mixer (or to a large bowl if kneading by hand).
Add flour gradually to milk mixture, stirring until incorporated. With dough hook knead dough until smooth, about 2 minutes. (By hand, knead on a lightly floured surface until smooth, about 10 to 15 minutes.
Transfer dough to a lightly oiled large bowl and turn to coat with oil. Cover with plastic and allow to rise in a warm place, until doubled in size, about 2 hours.
Meanwhile, In a small saucepan heat glaze ingredients over low flame, stirring occasionally, until butter is melted. Keep glaze warm.
Grease two baking sheets or line with parchement paper. Punch down dough and divide into 12 equal pieces. Form each piece into and egg shape and transfer pieces to prepared baking sheet.
Form 2 puppy ears by making a 2-inch long snip on each side, starting near wide end and cutting toward narrow end.
Brush top and sides of rolls with half of the glaze.
Form eyes on each piece by making 2 holes in narrow end with the end of a sharp knife and pressing a raisin firmly into each hole. Cut a slit in the bottom of the roll for the tongue. Insert a dried cherry to form the tongue. Place a half of marachino cherry in center for the noses.
Cover loosely with plastic wrap in a warm place to let rise, about 30 minutes (or until doubled in bulk).
Preheat oven to 375°F Remove plastic wrap and bake 15 minutes.
Brush rolls with remaining glaze, then bake an additional 3 minutes. Using a spatula, carefully transfer to wire racks to cool (the glaze will be like hot candy and can burn you).
Serve warm or at room temperature. Best eaten right away.
Most Helpful
This is so cute! The second I saw this, I knew I had to make this with my 7yo DD. She is in love with puppies. They are light and airy, not yeasty. I love the honey flavor. We used Craisins for the tongues. You know, you could almost make these into reindeer for Christmas. I made just have to try it! Thanks so much for the wonderful recipe. Made and Reviewed for Please Review My Recipe Tag

This is fabulous! Followed recipe as is except instead of step 10's 30mins wait I fell asleep ( I did this at midnight) and was able to continue with it after 5 hours. I was afraid it might have developed a yeasty taste but good for me, it didn't. They were so cute to look at after it was done and the dough was soft with a touch of sweetness from the glaze. I really felt proud of myself (thanks to you!) that I packed some with me and gave some to my MIL although there was one where I said, "oops, sorry I ate an ear." Even DH said this tasted good. This is a keeper!

Since I was making these for our neighboors I just made them as regular cinnamon roll shaped rolls with rasins and cherries sprinkled in the center then rolled up (they already think I am odd enough without making doggie shaped rolls haha). Since I am not one who likes to wait around for dough to rise, I used rapid rise yeast and also made this without my kitchenaid mixer since I didnt feel like lugging it out of its cupboard. With all of that said these rolls were excellent. The glaze is very tasty and the dough is super soft. great recipe!