Boomette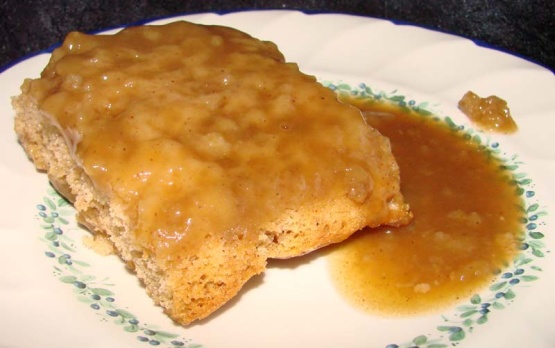 This is VERY easy to make and absolutely wonderful. It disappears quickly!! I got the recipe from my friend in Quebec. The original was brought over from France when the first settlers arrived in "Nouvelle France" or Quebec. Somewhere over time it became "Grand-pere" when someone substituted maple syrup for the brown sugar/water mix. Both versions are INCREDIBLY DELICIOUS! It is wonderful served warm with vanilla ice cream or cool whip. It also good served cold or room temperature.

I also like to add real maple syrup to my version, as well as apples to cut the sweetness a bit. But this was not a recipe brought over from France - it originated during the depression in Montreal when people had very little to live on, hence the name Pouding Chomeur or Poor man's or Unemployment pudding. It is a true Quebecois recette!
Preheat oven to 350.
Mix the first six ingredients together in a deep baking dish (the deeper the better to prevent spills).
This is the"batter".
Combine the boiling water,3/4 cup brown sugar and nutmeg.
Pour over the top of the"batter".
Bake 30 minutes at 350.
**NOTE:To make Grand-pere instead, replace the 2 cups boiling water and 3/4 cup brown sugar with 3/4 cup boiling water and 2 cups maple syrup- omit the nutmeg.
Either version is equally delicious.