Potsie's Creamed Chicken and Biscuits Casserole
SharonChen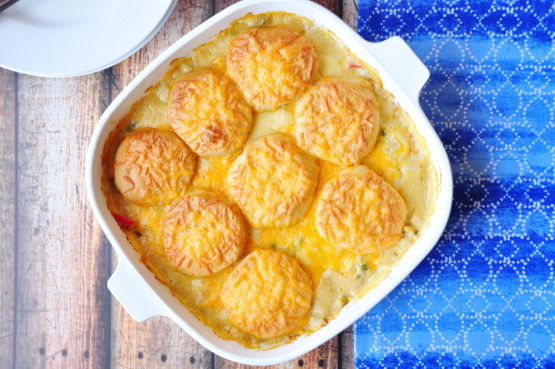 This is a wonderful and simple to prepare comfort food using things you probably already have around. Kids love it- but so do adults. At least, in this home. Try it. It is one of my quick and easy favorites. This is my first submitted recipe... be kind.

Potsie, this dish was FABULOUS! I doubled the recipe and added in 1 cup of evaporated milk along with the amount of regular milk called for. I used half mayo and half sour cream, and chose to use cream of celery soup. I added in a bit of flour as suggested for a thicker sauce, and also some partially micro waved frozen peas and carrots. I thought I had pimentos on hand but couldn't locate them when I needed them most - someone had to have nabbed them - but I can't imagine for what purpose because I'm the only one around here who actually cooks - so I had to woefully omit them. I added extra onions to compensate for the missing pimentos, then I added a few generous shakes of garlic powder, salt and pepper, and the chicken. I added a bit more of the chicken than specified because it seemed really saucy. Then, since it seemed so saucy, I sprinkled the shredded cheese on top before placing it in the oven for the first 20 minutes - so I would have a firmer foundation for the biscuits I would be placing on top later, because I was afraid the bottoms would be soggy sitting in all that sauce. After it was bubbling nicely I sliced my large-size biscuits in half through the middle so they would be thinner and placed them on top of the cheese, then sprinkled them with jar-type Parmesan cheese and popped the dish back in the oven. Then I stood there and drooled while my grandchildren - and my adult children - all tried to crowd around the stove to watch the dish through the oven-door glass while it bubbled away, so they could try to gage how much longer it would take to be done. Like they would know. Anyway, everyone absolutely loved it and were so busy scarfing it down that it was actually quiet around the dinner table for a change. But I must give a word of caution to others - don't make the mistake I did by adding in evaporated milk - this dish was VERY rich and would have been so even without it. And even though it looked overly saucy when I first placed it in the casserole dish, a lot of the sauce was sucked up by the chicken and veggies, so we had less sauce than we wanted after it was done baking. Again, my mistake for adding in the extra chicken - next time I'll control myself no matter how saucy it seems before baking it, and add the amount of chicken specified. I should have followed your directions to the tee, and I will in the future, Maestro Potsie. By the way, the biscuits turned out perfect and weren't a bit soggy, and I served this dish with a side of boiled and buttered red-skinned potatoes. I can't wait to make this again - with the pimentos - which I'll hide when I bring them home - and hope I'll be able to remember where I hid them when I need them again. Yeah, right! Thanks so much for this great comfort dish!
Preheat oven to 350.
Grease the bottom and sides of an 11x7 inch baking dish or 10 inch quiche dish.
Chop the onion.
Heat butter in a small nonstick skillet and saute until tender.
Combine cooked onion, soup, chicken, milk, pimiento, and mayo in a bowl and then turn into the prepared baking dish.
Bake for 15 minutes and remove from oven.
Sprinkle 1 cup of the cheese over the baked mixture.
Arrange biscuits decoratively in a single layer and sprinkle remaining 1/2 cup cheese over them.
Return casserole to oven and bake until biscuits are golden brown and sauce is bubbly, usually about 20 minutes longer.
NOTE: 02/16/09: This is RICH! You may sub sour cream for all or part of the mayo if you wish to cut back on the heaviness. The last time I made this I used a 1/4 cup of fat free mayo and 1/4 cup of sour cream. I think it was delicious! Also -- I took the suggestion of adding a cup of cooked green peas. What a terrific idea! I LOVED it! I think I might add two cups next time. Thanks to you all for making my humble recipe and leaving your suggestions. You GREATLY improved a recipe I was already proud of. Thanks so much.