GaylaJ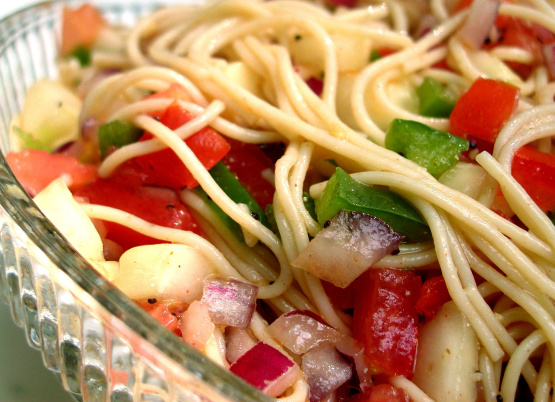 This is really a great picnic salad, or something to have along grilled chicken or fish.

I thought the addition of poppy seeds and sesame seeds were a fun twist. I doubled both and thought they added visual appeal too. I used celery seeds and fresh garlic to lower the salt and fat free dressing. I also broke the pasta into fourths just to make it easier to spoon, but I think bow ties would be fun in this salad too. The whole after marinating over night is light & refreshing. A definite pleaser and twist on a pot luck standard.
Cook spaghetti according to directions; rinse in cold water and drain.
In a large bowl mix together spaghetti and vegetables.
In a small bowl mix together all the remaining ingredients.
Pour dressing over the spaghetti mixture.
Toss to coat.
Refrigerate overnight.
Toss before serving.