Potholder New Orleans Pecan Pie
Bayhill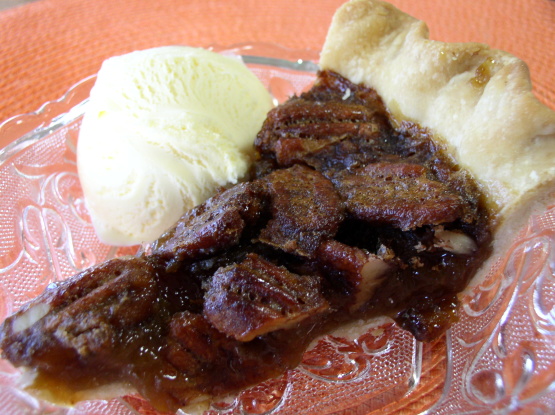 This recipe is printed on a potholder that my husband brought home from a trip to New Orleans. It's loaded with pecans. For a change you can dice the pecans you put in the middle and leave whole ones on top, like I've eaten in South Carolina. At our house we make one half with added choclate chips and one half plain to cater to everyone's tastes.
Delicious!! Pecan pie happens to be one of our favorite kinds of pie. Served warm with some vanilla ice cream...heaven!! This quick and easy pie had a wonderful rich flavor and smelled divine while baking. My husband and I each had 2 pieces while it was still warm. I left the decorative pecans off of the top because I didn't think that they were needed and they always seem to get too dark anyway. Thank you for sharing this wonderful recipe. It is definitely a keeper! Made for ZWT 9 - Cajun/ Creole for The Apron String Travelers.
Cream butter and sugar together until fluffy.
Add salt, karo syrup, eggs, and vanilla.
Sprinkle pecans on the bottom of the pie shell, reserving 1/4 cup for topping.
Pour filling over pecans.
Decoratively place remaining pecans on the top of the pie .
Bake at 450 degrees for 10 minutes.
Reduce heat to 350 degrees and bake 35 minutes longer. (If you want, you can put the pecans on the top at this point instead of earlier, so they don't get so dark.).
Test with knife. Outer edge of filling should be set, and center of filling should be slightly soft, but knife should come out clean.