Nimz1466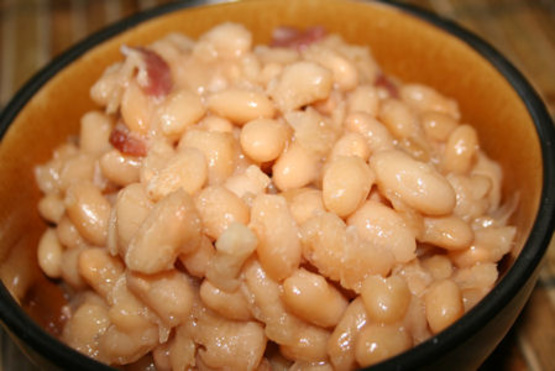 These are posted for ZWT 2006. Cookin and prep time does not include "standing" time.

Top Review by Gerry
For most part I have always made my Baked Beans from scratch - what I had never done is make them with maple syrup and rum. I only had a 1/4 cup of the rum but it seemed to be just fine. Have made plenty of great recipes from cans as well - but there is something about slow cooked beans from the oven! Made as posted and while very different from any I have made they were very very good.
Wash and pick over beans. Put beans and water in saucepan, cover. Bring to a boil. Boil for 2 minutes.
Remove from heat and let stand 1 hour.
Return to heat, bring back to a boil, lower heat and simmer, covered, for 40 minutes.
Drain beans thougha colander set over a bowl. Reserve 2 1/2 cups of the cooking liquid and set aside.
Put bacon in ovenproof casserole or bean pot. Cover with cooked beans.
In a bowl, combine onion, salt, mustard, syrup, rum and 2 cups of reserved cooking liquid.
Pour mixture over beans.
Cover and bake in a 325 degree oven for 3 hours, adding the last 1/2 cup cooking liquid during the last 30 minutes of cooking.
Remove from oven.
Combine brown sugar and melted butter. Drizzle over beans.
Bake, uncovered, for another hour or until liquid has evaporated.