Bergy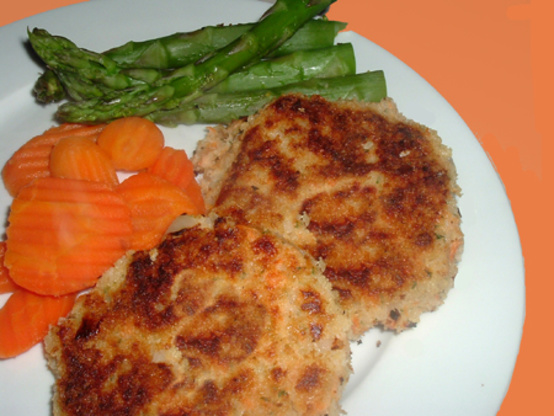 Quick easy recipe to make after a hard day's work. For the mashed potatoes use plain cooked potatoes mashed with no added ingredients. Just cook extra potatoes the night before and take out what you will need for this recipe. If you want a little spice add 1/2 tsp hot pepper flakes I like a bit of Tartar sauce and a green salad along side or a couple of steamed vegetables. Great summer dish. This recipe goes a long way from one small can of salmon. I would like to stress use leftover cooked potatoes not left over mashed potatoes that already have got a lot of extra ingredients in them!

We made the following adaptions: 2 6 oz. cans of boneless, skinless pink salmon and used leftover garlic mashed potatoes. Also, added juice of 1/2 lime and zest. Served on a bed of baby field greens with cucumber sour cream sauce. Quick, easy and yummy!
1

(213 g) can salmon, skin & bones removed (I prefer sockeye but in this recipe pink is fine too)
1 1⁄2 cups left over mashed potatoes

1

egg, beaten
1⁄2 cup flour
salt & pepper

3

tablespoons parsley, chopped

4

tablespoons onions, minced
3⁄4 cup fresh breadcrumb (Panko are best)
vegetable oil cooking spray, for frypan (or if you wish use butter mixed with oil for really crisp cakes but watch the calories go up)
Mix all the ingredients except the bread crumbs, stir well.
Form into 6 cakes.
Coat with crumbs.
Fry until nicely browned on the outside and heated through, apprx 5 minutes each side Serve.