Potatoes With Onion Sauce and Parmesan Cheese
Prep 20 mins
Cook 50 mins

For some reason we had stopped eating potatoes. I honestly don't know why. But lately I have re-discovered them and this is one we have enjoyed. This is a slight adaptation from "500 Fat Free Recipes." I have added a little fat to it (the original calls for fat free parmesean which I can no longer find), but it is still quite reasonable in my mind. Also, the original called for putting all the cheese on the top. We felt like a little in the middle would have helped, so I am writing it that way. Feel free to play around with it!
Directions
Preheat the oven to 350 degrees.
Put the milk, the cornstarch, and the 2 kinds of pepper in a pan.
Cook (stirring frequently) over medium heat until it starts to thicken and bubble.
Add the chopped onion and set it aside.
While the milk mixture is cooking, peel and slice the potatoes very thinly.
Spray an 8x8 pan with cooking spray.
Start layering the potatoes in the pan.
When you are halfway done with the potatoes, add half the cheese.
Then finish with the rest of the potatoes.
Pour the onion sauce over the potatoes and sprinkle the rest of the cheese on top.
Cover and bake for 40 minutes.
Then uncover and cook for 10 minutes more or until the potatoes are tender.
Most Helpful
Oh my goodness. Was this delish. I loved it and so did my son. Picky hubby not so much. I knew that and made him french fries. It had nothing to do with the dish. I used whole milk it was all I had. I didnt use measuring spoons, just eyeballed the pepper measurements in my hand. This is a keeper. Thanks so much, Ladypit. This will get lost of use in my house.

Deceptively delicious recipe - more than the sum of its parts. Not your average scalloped-type potatoes recipe, and an extra bonus for being lower in fat. We actually used 2% milk as well (which was what we had in the fridge), waxy yellow potatoes and all the parmesan cheese (I've never found a fat free kind). Putting a layer of cheese in the middle was a great idea, gave it a little more interesting texture. The cheese and onion together gave this a great nutty/sweet taste. WOW! Thanks ladypit:D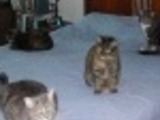 Very good, especially for so little fat! The sauce was a little thin for us - but I used Wondra instead of cornstarch so maybe that's why (or my potatos just didn't soak it up). Everyone enjoyed this easy side and I have a feeling it's going to be made quite a lot from now on. Thanks!