Potatoes With Leeks and Rosemary
Rita1652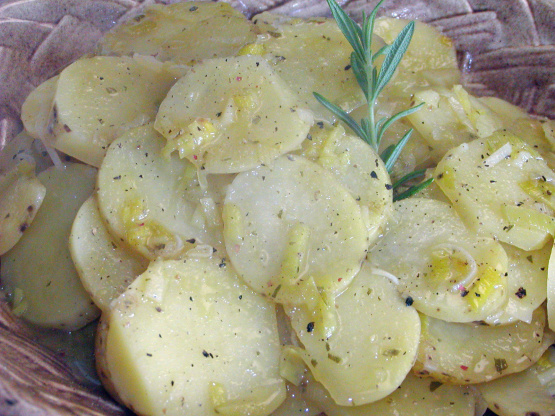 This is a quick potato dish - I love the addition of leeks!

I made this for dinner last evening. I sliced the potatoes as thin as I could and they came out nice and translucent -- and cooked up beautifully. The only thing I would change is to perhaps add some minced garlic or some parmesan cheese for a little extra flavor. The leeks added a mild oniony taste that worked perfectly with this. We all enjoyed this recipe, and thanks for sharing it!
In a wok, heat olive oil and butter over medium-high heat until hot, swirling to coat sides of pan. Add potatoes and leek and cook, stirring and turning potato slices until hey turn translucent, 6 to 8 minutes.
Add chicken broth, wine, rosemary, salt, and pepper. Bring to a boil. Reduce heat to medium-low, cover, and cook until potatoes are tender, 20 to 25 minutes.
Uncover and cook, stirring occasionally, until most of liquid is absorbed, about 4 minutes.