Potatoes Tapas in Garlic Mayonnaise (Potatoes Aioli)
Arichka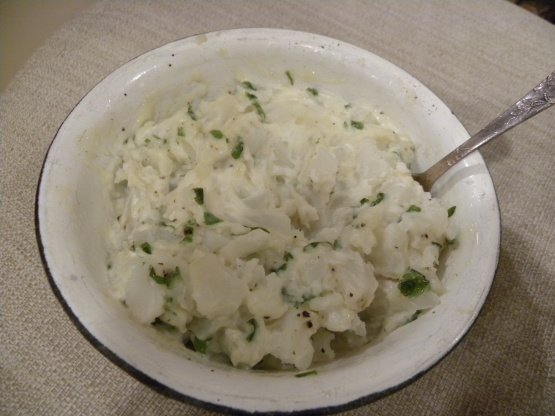 "Tapas, The Little Dishes of Spain" By Penelope Cases Alfred A. Knopf 1986 This book contains more than 200 recipes for tapas. The word "tapa" in Spanish means top or cover( there are other meanings) Spain has many bars one for every 120 persons. They are usually small and run by families. Coffee, water, soft drinks and liquor. They serve food also. They have the time and ingredients for these small dishes. In the early days tapas were served on small dishes placed as a cover over drinks. The tapas were small and sometimes they were free or sold for a small price. Today the dishes are larger and expensive. (4) recipes of the most commonly found tapas all over Spain

A great recipe. When I was in Spain, we ate this all the time at our favorite bar. The owner's secret was to use a bay leaf in the potatoes while you are boiling them. It adds just a little background flavor.
Boil potatoes in salt water until tender; peel and cut into 3/4 inch chunks.
In a bowl, combine mayonnaise, garlic, and parsley. (Mayonnaise should be a little thin, dilute with lemon juice or soft vinegar if necessary.).
Fold the potatoes into the sauce gently, season with salt to taste, serve at room temperature.