Potatoes, Old French Style
Imagenie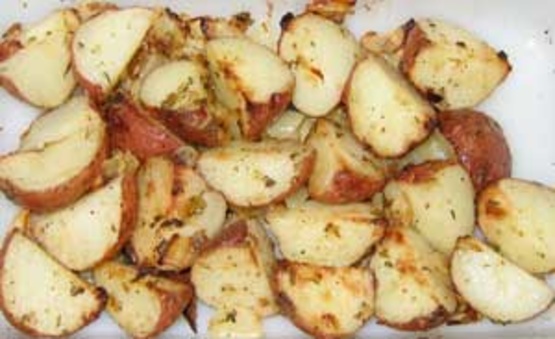 This is an old standard in our house. The nutmeg and lemon give the potatoes a special flavor.

Nice potato side dish. I did have trouble getting the potatoes to brown in the 25 mins called for, so I put them under the broiler for 5 mins and that helped. I was a little disappointed that the lemon and nutmeg weren't as pronounced as I had hoped. Maybe a little more salt next time I make them. I also sprinkled the parsley (and some of my own dried oregano) over the potatoes when they came out of the oven so as not to burn them. I also thought parboiling the potatoes was a very good idea because the warm potatoes seemed to soak up the lemon mixture. Overall, a very good potato dish that I'll make again!
Preheat oven to 450 degrees.
Wash and cut potatoes in quarters. Leave skins on.
Parboil the potatoes in boiling water for 3 to 5 minutes. Drain.
Mix flour, 1/4 cup oil, and remaining ingredients in a large bowl. Add potatoes and toss to coat.
Place in a buttered baking dish and drizzle a little more oil on the top.
Bake 20 to 25 minutes, or until nicely browned and tender, stirring halfway through cooking time.