Potatoes O'brien-Breakfast
ChefDLH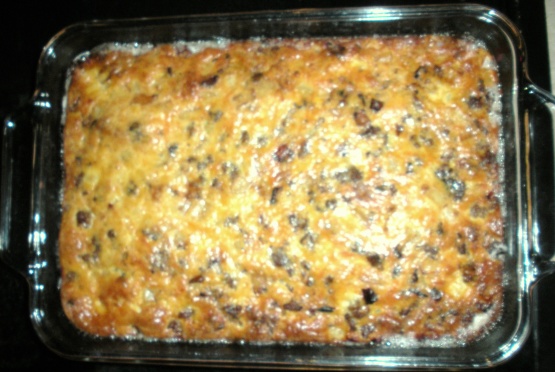 Just a good breakfast dish, especially when you have company. This came out of the "Arizona Daily Star."

Delicious! The first breakfast casserole that was able to keep a square shape when cut and not fall over or be runny. Love that. When I headed to the store they were out of maple brown and serve sausages so I went for Jimmy Dean bulk reduced fat breakfast sausage (12oz) and I got the last bag of O'Brien potatoes. We fried the measured pototoes according to package directions and fried the bulk sausage seperately. In another bowl we beat the eggs, added milk (used 3/4 cup whipping cream and the rest millk) and cheese and salt then combined it all in a big bowl and poured into a butter greased pan. The time on this in our oven was well done. I would check it at 45 minutes just in case. This breakfast would be good for most folks. If you need more seasonings or a kick just add it. Thanks for posting 'Out of here' this was super. Enjoy! ChefDLH
Fry the sausage, and add to the potatoes, the 5 beaten eggs, milk, cheese, and salt. Stir together.
Put in a greased 2-quart casserole dish.
Bake at 350 degrees for 50 minutes.