Potatoes Mashed With Caramelized Onions
ImPat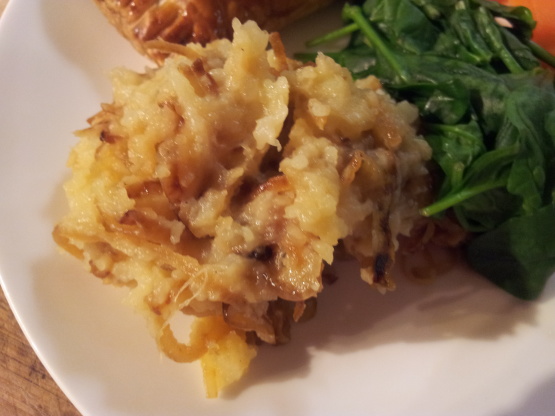 This is from the Ontario Liquor Board's Food and Drink magazine. We love them with special celebration meals.
Heat oil and butter in a large skillet. Add onions and salt and sauté until the onions begin to soften. Sprinkle in the sugar, turn the heat to medium-low and continue to cook, stirring occasionally until the onions turn golden brown. Stir in the vinegar and stock and raise the heat to high. Reduce until the stock is almost gone. Season with salt and pepper. Remove from heat.
While the onions are cooking, cook the potatoes in boiling salted water until tender. Drain well and let dry on the turned off burner.
Mash the potatoes and beat in buttermilk and butter. Add more buttermilk if needed to make them creamy. Season with salt and pepper.
Preheat the oven to 375°F.
Butter a large gratin dish. Layer 1/3 of the potatoes then 1/2 the onions. repeat the layering ending with potatoes. Sprinkle with Asiago and bake for 20-25 min until the top is browned and the potatoes are hot.
Can be made ahead and heated when needed.