Potatoes in Spicy Cheese Sauce - Papa a La Huancaina
Annacia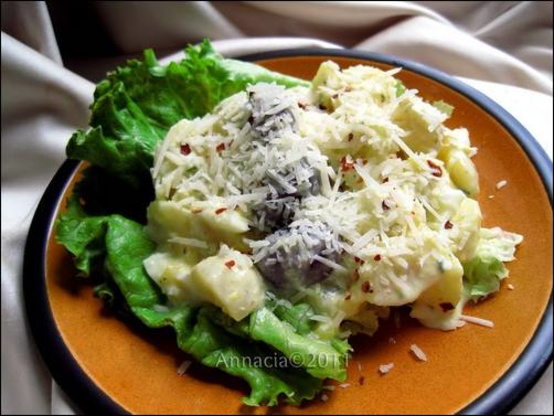 This famous Peruvian dish Papa a la Huancaína was posted by Marian Blazes. I have posted it here for use in the ZWT-7 world tour of South/Central America. This is a dish of sliced potatoes covered in a spicy cheese sauce that is typically served cold, as a first course or as a lunch dish. It is delicious made with yellow or white potatoes. The sauce for the dish is called Salsa a la Huancaina and is made with aji amarillo peppers. The spiciness can be adjusted by using less or more yellow chile peppers. (your preference) If you would rather not have it spicy, you may use some tumeric powder instead for flavor.
salsa, a la Huancaina, Spicy Cheese Sauce

4

tablespoons oil, vegetable
1⁄2 cup onion, chopped

3 -4

chili peppers (yellow aji amarillo frozen is fine or 1/2 cup jarred aji amarillo paste)
1⁄4 teaspoon turmeric (optional, if you don't want it spicy add tumeric instead)

2

garlic cloves, mashed

2

cups cheese, white farmer's cheese (queso freso, may sub with feta)

4

crackers, saltine (or for slightly sweet flavor add animal crackers instead)
3⁄4 cup milk, evaporated

1

pinch salt (to taste)
1⁄4 teaspoon pepper (to taste)

8

potatoes (yellow or white)
lettuce leaf (for plating)

8

large black olives, halved
For the sauce - Remove seeds from yellow chile peppers and chop into 1 inch pieces.
Sauté the onion, garlic, and chile peppers (or paste) in the oil until onion is softened, about 3-5 minutes. If using the tumeric option, add it now.
Once onion is softened remove from heat and let cool.
Place the onion-chile mixture in a food processor or blender, add the evaporated milk and blend.
Next add the cheese and crackers and blend until smooth.
The sauce should be fairly thick. If necessary thicken you can thicken the sauce with more saltines or thin the sauce with more .
Season with salt and pepper to taste and serve at room temperature or chilled.
For the potatoe dish - Heat a large pot of salted water to boiling and add the potatoes.
Boil the potatoes until tender, drain and let cool.
Slice the potatoes and place on top of the lettuce leaves.
Then pour the huancaína sauce over the potatoes and garnish with slices of hard-boiled egg and black olive halves.