Outta Here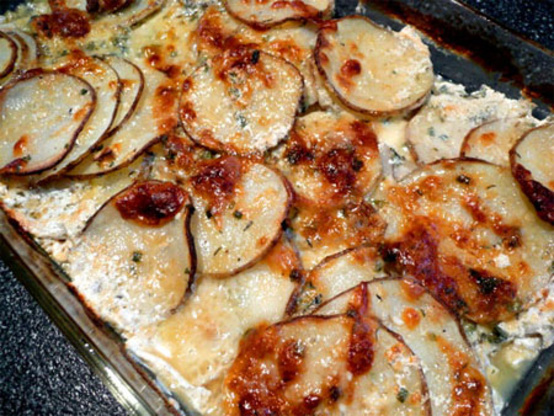 I'm not a big scalloped potato fan, because often I find that they are bland or have a nasty texture. These are the exception! If you have a mandoline or a food processer, use it to slice the potatoes- you need them to be really thin.
YUM! I made these to take to dinner with our friends and there were rave reviews all around. I use about 3/4 cup parm & 3/4 cup cheddar cheese and a little more cheddar on top at the last 10 minutes. I added 1/2 thinly sliced onion and used 1/2 & 1/2 in place of the cream. The fresh herbs and garlic give this a really nice flavor and they weren't as heavy as some au gratin potatoes can be, they were perfect with our BBQ steak and salad. I did have took cook them for about and hour a half so covered them with foil for part of the time. Thanks for sharing I'll be making this again. Made for ZWT 8 by another one of The Wild Bunch
Preheat oven to 375.
Combine all ingredients in a large bowl, and mix until all of the potatoes are coated.
Butter a shallow baking dish, and add potato mixture, flattening top of potatoes.
Bake for 40 minutes, or until the potatoes are tender and the edges bubble.
Let stand for 10 minutes, then serve.
Notes: I have made this ahead of time, and put the mix in a zip top bag in the fridge until I was ready to bake.
For a browned top, dot with small chunks of butter before baking.