I'mPat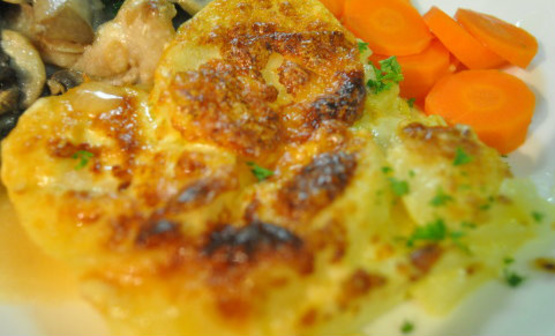 Translated from French to English, it means "Grandmother's potatoes". It's a very nice potato dish that's good with just about any meat. I like to sprinkle some fresh parsley over the top just before serving; basil or oregano is also nice. Servings will vary, as the size of potatoes will differ; cooking times may vary for the same reason. Check at 45 minutes.

Top Review by I'mPat
I scaled back for 2 serves and served 3 of us with one serve left over, I used a 8x8 cake tin and baked at 175C fan forced for 40 minutes (sorry no mention was made as to what to do with the parsley, assumed it was to sprinkle on the finished product, which I didn't do as the dish I was serving it with was already liberally sprinkled with parsley). Flavour wise we thoroughly enjoyed the rich creamy flavour of the potatoes (I used Carisma - a low GI white potatoes). Thank you FLUFFSTER, made for Help A Naked Recipe, Photos Forum event.
Preheat oven to 350°F.
Layer sliced potatoes in a 9x13-inch glass baking dish and season with salt and white pepper.
Combine cream, mustard, garlic,** parmesan cheese and butter in a heavy saucepan and heat just to the boiling point.
Pour over potatoes. **Add some of the reserved cheese, if using).