tanechap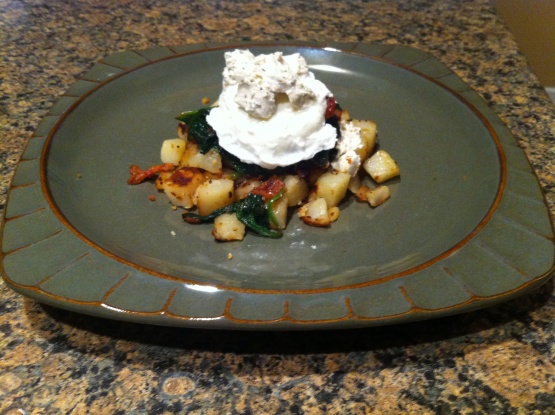 Ready, Set, Cook! Special Edition Contest Entry: One of my favorite meals of the day is breakfast and the first thing that pops into my mind when I think about it is eggs. In this dish, the perfectly poached egg makes a scrumptious, velvety sauce that pours down over the spinach and potatoes leaving you wanting more. I made this for my family and they loved it. I hope you enjoy it too!
Heat oil in sauté pan on medium high heat. Add 1 clove minced garlic and sauté for approximately 1 minute. Then add Simply Potatoes to pan. Add salt/pepper then cover and cook 12-15 minutes, stirring occasionally.
In a skillet, cook bacon until brown. Remove from pan, chop, and set aside. Also, set aside 2 Tbs of bacon grease.
In a medium sauce pan, add 2Tbs water and spinach. Cover and let steam for 5 minutes stirring occasionally. Drain water and remove spinach from pan. Add bacon grease and sauté 1 clove minced garlic for approximately 1 minute. Add cream and goat cheese. Heat on medium heat until warm and bubbly, approximately 5 minutes. Return spinach to pan and add chopped bacon. Cook another 2 minutes.
In a deep skillet, add 4 cups water, vinegar, and 2 tsp salt. Heat liquid to 180 degrees. Add eggs and poach for 4 ½ minutes. Remove eggs and place on cloth.
For plating, add potatoes to plate. Then layer with creamed spinach and one poached egg. Sprinkle with salt and pepper.