nszelich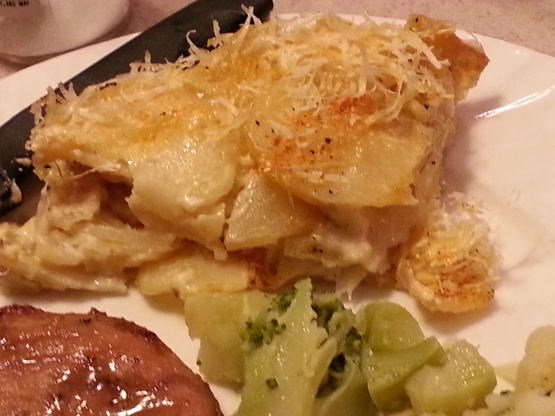 This is my favourite potato recipe of all time. It makes the perfect accompaniment to a roast or any other meat dish. Traditional recipes for this take 1 1/2 - 2 hours to cook, so I start mine off in the microwave. Some recipes are very rich, calling for all cream plus butter and cheese on the top. I've found this version - even when made with low fat ingredients - tastes wonderfully creamy but not too rich with no compromise on flavour. One of the best things about Potatoes Dauphinoise is that if there's any left over it keeps well in the fridge for several days and it reheats beautifully in the microwave (unlike roast potatoes which can taste a bit floury when reheated). I've also frozen it, defrosted it in the fridge during the day, then reheated it in the oven for dinner. Try it - I know you'll love it!

Top Review by Jedley
I tried to be a good boy and obediently follow the admirably explicit instructions, but couldn't resist adding ultra thin-sliced onion and a sprinkle of parmigiano to each layer, making it I suppose a hybrid of Dauphinoise and Lyonnaise. Can you say 'sublime'? With a side salad, it's hearty enough to stand as a meal in itself.
4

medium potatoes

2 -3

cloves garlic, crushed and chopped finely
grated nutmeg

1

cup cream (low fat is fine)

1

cup milk (no fat or low fat is fine)

1

cup grated tasty cheese (low fat is fine)
Variation: This recipe also works well with orange sweet potato (kumera).
If using sweet potato, try substituting the nutmeg with a generous sprinkling of caraway seeds over each layer.
Yum!
Grease a 6 cup capacity ovenproof dish generously with the butter or margarine then smear the garlic around the bottom and sides of the dish.
(I use a round glass pyrex dish.) Peel potatoes and slice thinly into rounds.
(I use the slicing blade of my food processor).
Line the bottom of the dish with a single layer of overlapping potato slices.
Sprinkle generously with salt, pepper and nutmeg.
Repeat this layering and sprinkling process until you have used all of the potato slices.
In a large jug, combine cream and milk and stir well.
Pour this mixture over the potato slices, gently easing the potato away from the sides of the dish to allow the liquid to penetrate evenly.
Place the dish onto a microwave safe plate and cook, uncovered, in a microwave on MEDIUM HIGH for 15- 20 minutes.
Check occasionally.
If the liquid in the potatoes boils over, simply pour it from the plate back into the dish and continue cooking.
Microwave just until you can push the blade of a sharp knife through the potato layers without feeling any crunchy resistance.
Having reached this stage you can go on to cook the dish in the oven or cover with plastic wrap and keep in the refrigerator for several hours or more before cooking.
Pre-set your oven to 180°C (350°F).
Sprinkle the top of the potatoes with the grated cheese and place the dish on an upper shelf in the oven for 20 minutes or until the top turns golden brown.
(This may take slightly longer if taking the dish straight from the refrigerator.) To serve, cut into wedges and remove each wedge carefully with a spatula.