Potatoes Baked With Tomato and Onion
Deantini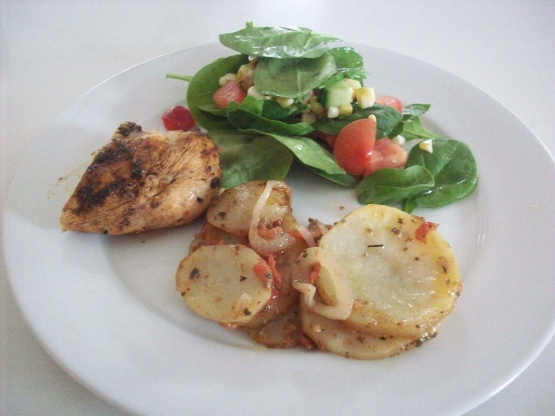 Mediterranean style potatoes that are flavorful and make a great side dish. From "Italian Gourmet"

This potato dish has great potential. The reason that it is not getting 5 stars is that we did not find there were enough 'umph' in the flavour-wise. Next time I will add garlic (3 cloves or so), and double the parmesan cheese. We also served freshly grated Parmesan cheese at the table which was nice. I served it as a side dish to Recipe #249968 which was a nice combination + a spinach, corn, tomato salad. Made for ZWT 5
Preheat oven to 350 degrees.
Place all ingredients in a baking dish and toss to combine.
Bake for 1 hour and serve hot.