Potatoes au Gratin with Brie and Chives
Mizzy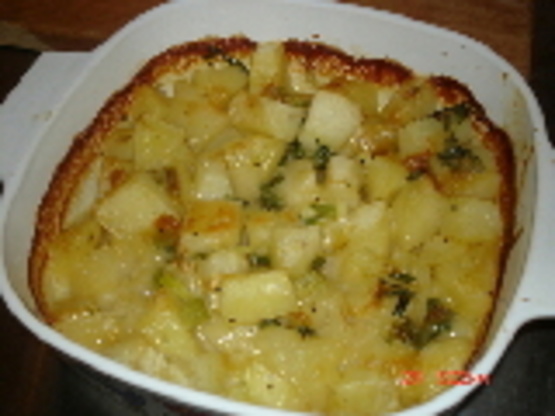 From "The Cheese Lover's Cookbook & Guide" by Paula Lambert.

Very impressed--Because this recipe differed from the traditional au gratin recipies, I was a little hesitant. But, I found the flavors to be mild but complementary. I will definitely serve this to guests. I'm not sure the affect of steaming the potatoes rather than using baked or boiled, but I nuked medium sized red potatoes and found them to have excellent flavor and texture. I did not peel the potatoes, but left the skins on and only sliced the them (3/8" thick) and felt it gave a pretty good presentation. That did simplify the preparation. Other than using red potatoes with the skins, I did't vary from the recipe. No additional stirring, added broth at 20 minutes, and reduced the oven temperature as specified. It came out perfect.
Preheat oven to 400 degrees.
Coat a 2 ½-quart baking dish with cooking spray and set aside.
Cut potatoes into quarters and place in a steamer basket set over boiling water.
Steam 15 minutes.
Drain in a colander.
When cool enough to handle, peel potatoes and dice into ½-inch cubes.
Spread potatoes in prepared baking dish.
Add salt, pepper and chives, mixing well.
Cut the rind off the Brie and discard.
Cut Brie into pieces and place on top of potatoes.
Pour ¾ cup broth over potatoes.
Place baking dish in oven and bake 20 minutes.
Check liquid surrounding potatoes and add a little additional broth if necessary.
Reduce heat to 350 degrees and bake 40 minutes longer, or until top is golden brown and the potatoes are soft.
Remove from oven and let rest 5 minutes before serving.