Potatoes and String / Green Beans
Derf2440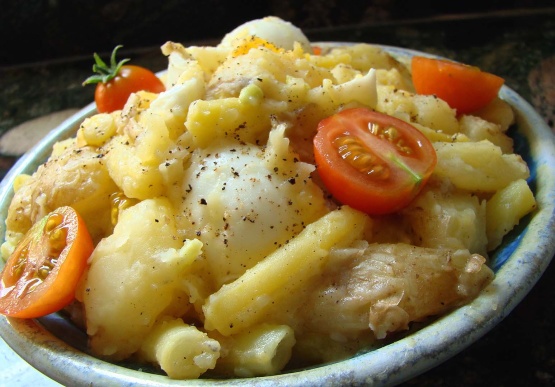 Another potato salad to try this summer. Needs to be refrigerated before serving.

A marvelous change from your everyday potato salad, delicious! I only had yellow wax string beans, and new baby white potatoes, which made the colours kind of all the same so I added some cherry tomatos to top it off and add some colour. We loved the flavours of the dressing and the garlic set it all off perfectly! Thanks for posting, we will be having this often thoughout the summer, next time with green string beans and new red potatos.
1

lb red potatoes
salt and pepper
1⁄4 lb mixed green and yellow beans, cut in 1-inch lengths

3

tablespoons wine vinegar

2

large eggs, hard cooked and sliced
Put potatoes in a pot with cold water, salt and 1 garlic clove, and bring to a boil.
Reduce heat and cook until potatoes are very tender.
Drain, discard garlic.
Cook beans until very tender, 8 to 10 minutes.
Drain, dump in a bowl of ice water to cool, drain well.
Dry on paper towels.
Cut potatoes into chunks while still warm.
Cut 2 garlic cloves into the thinnest possible slices.
Combine the potatoes with garlic, bean, oil, vinegar, eggs and pepper.
Toss well, check salt and pepper, cover and chill at least 2 hours before serving.