Potatoes and Onions (Patate E Cipolle)
Baby Kato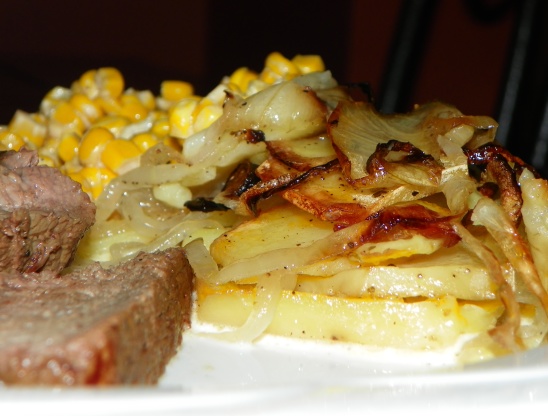 The Art of Cookery website is where this recipe was found. Along with the recipe this tip was included: This dish is really rather filling in itself. Never serve it after an onion soup, for example, or with a substantial main course such as peppery stew or T-bone steak. In the winter-time you could even serve it as a first course. Another great recipe that will be included in the Zaar World Tour 2005.

Fantastic potato recipe! The fresh rosemary smell permeated the entire house and everyone kept saying 'it smells so good!' I chunked my potatoes and roasted them for about an hour, the first 30 minutes at 375 and then another 25 minutes or so at 400 - that way they browned nicely! I added fresh ground pepper and Hungarian paprika (for color) too. Made for ZWT5.
Peel the onions and potatoes, wash and cut into thick slices. In an ovenproof dish, alternately layer potatoes and onions and season with the oil, rosemary and salt.
Bake in the oven at 180°C for thirty minutes or until crispy and golden brown. Remove from the oven and serve warm.