Potatoes and Onions and Cheese, Oh My!
Annacia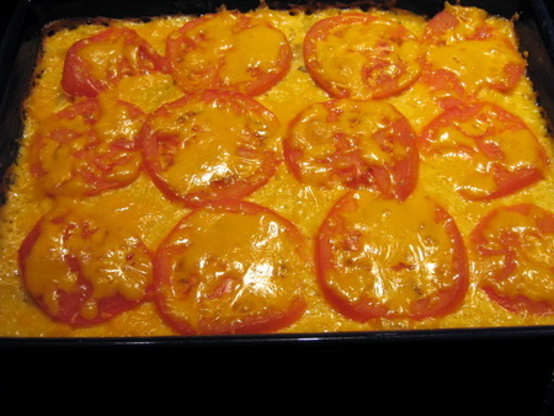 This is the recipe my husband uses when he makes Potatoes Au Gratin. You will need to refer to Peter's Cheese Sauce for this to make the cheese sauce. Using a food processor or mandoline to slice the veggies is key.

I'm not starring this only because we didn't get to sample it in top form. I wanted to bake it slowly because I had plenty of time so I put it on convection 325 and went about my business. When I checked it the center spuds were still pretty firm. In my not so great wisdom returned the pan to the oven at 375. I was called outside and completely forgot about them. What we were able to dig out of the hard black stuff was delicious and creamy. I'm sure that I'll make this again and keep my eyes on it next time. I'm sorry CQ, I was a bad tagger. This was in NO way the recipes fault!*UPDATE* I made this to go along side the Christmas ham and it's great. I kept an eye on it this time. I quite like the tomatoes added it's a different touch that adds something good.
Preheat oven to 200C/400°F.
Generously butter the inside of a 9X13 baking dish and set aside.
Peel the potatoes and thinly slice along with the onions and mushrooms, using a food processor or mandoline.
Layer half the potatoes into the bottom of the baking dish, then half of the onions, followed by half the mushrooms. Season with salt and pepper. Repeat layers with remaining veggies and season with salt and pepper.
Pour cheese sauce over potatoes and cover with aluminum foil.
Bake for 1 1/4 hours. Remove from oven and take foil off. Put a single layer of sliced tomatoes on top, if using. Sprinkle with remaining 50g cheese and return to oven for 15 minutes, turning on broiler/grill for the last 3-5 minutes to brown cheese.
Allow to sit 10 minutes before serving.