Potatoes and Carrots in Coconut Curry
karen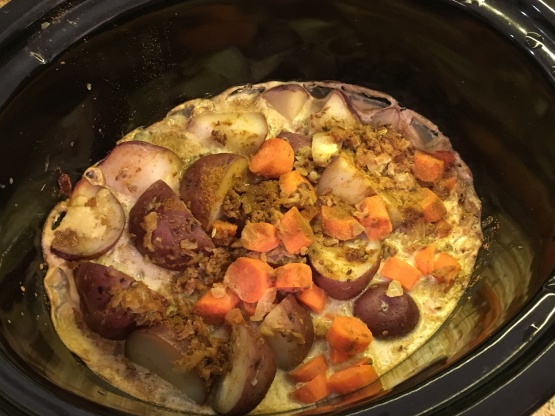 This is a typical southern Indian dish where coconut milk is a common ingredient. This dish can be made in about 5 hours in a slow cooker and served hot, warm or at room temperature, like a traditional potato salad. Cooking times may vary due to the type and size of potatoes you use. This recipe calls for coconut cream; however, you can substitute coconut milk if desired. Recipe is from The Gourmet Vegetarian Slow Cooker cookbook.

Top Review by karen
First of all, the flavor combination is perfect. This reminds me of dishes I've had at Indian restaurants...and the cumin and fennel seeds really make this extra special. That said, I initially thought it was a bit too soupy and possibly that I overcooked the potatoes by about an hour. But after reheating some leftovers I changed my mind. I think that if I served this over basmati rice the way it would be eaten at an Indian restaurant rather than just on my plate, it wouldn't have been too soupy. If you don't want to serve it over rice, then maybe add a tbsp of flour or cornstarch to the coconut milk at the end so it thickens up a bit. And I decided the potatoes weren't overcooked at 4 hours in the crockpot before adding the milk...they were just softer than the way I usually make them, but still very good. Now that I've had time to think about it, I wouldn't change a thing. I did cut the recipe in half and left off both garnishes and the salt.
Wash the potatoes thoroughly, then place them in the slow cooker insert and add the water. Cover and cook on low for 4-5 hours, or until the potatoes are fairly tender (cooking time will depend on the size and type of potato you use). Tiny red potatoes, for instance, will generally cook in less than 4 hours, so use a fork to determine doneness. If your potatoes are fairly large, you may wish to cut them carefully into quarters.
In a saute pan, heat the oil and saute the onion over medium-high heat until golden brown, about 10 minutes. Add the garlic, cumin seeds, and fennel seeds and continue cooking for another 2-3 minutes. Add the onion, carrots, and curry powder to the potatoes and carefully stir in the coconut cream. Re-cover and continue cooking for 1 hour.
Add salt to taste, then spoon the curry into a bowl or onto plates and garnish with the chile slices and cilantro.