Derf2440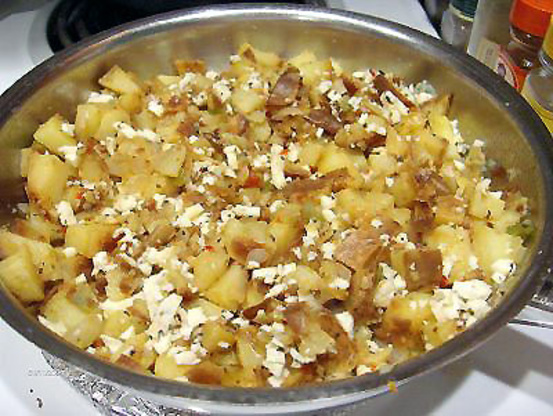 Use up yesterday's potatoes in this tasty dish. You'll find yourself cooking potatoes just to make these leftovers in endless variations.

This is absolutely delicious with Sharp cheddar cheese and French dressing. I'm looking forward to trying other cheese and dressing combos for a totally different, but probably equally wonderful taste. Thanks for sharing this the recipe.
4

cups leftover cooked potatoes
1⁄4 cup chopped sweet pepper (any colour)
1⁄4 cup chopped onion

3 -4

smashed garlic cloves
1⁄4 cup chopped pimiento (optional) or 1⁄4 cup chopped black olives (optional)
1⁄2 cup bottled salad dressing, your choice, we like greek with feta
1⁄3 cup crumbled feta cheese (match the cheese to whatever type of salad dressing you use, like french dressing with shredded ch)
Marinate all ingredients except the 1/3 cup cheese, in salad dressing for 2 hours.
Put marinated mixture into medium hot frypan, cover, simmer for 20 minutes.
Sprinkle with 1/3 cup cheese and cook a further 2 minutes.
Serve hot.