twissis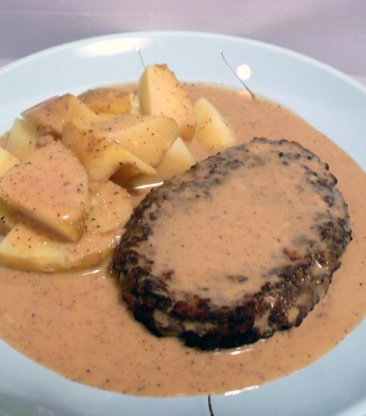 This is one of my favorite comfort foods. This is from Miriam B. Loo's (the founder of Current) Budget Cookbook. This recipe is not gluten-free as posted - sub 1 T cornstarch for the flour to thicken the gravy.

I really liked the flavor of this, but had trouble keeping the patties from falling apart. I did not think my potato was all that big, but perhaps it was too big? This made six nice sized patties, I would say 4 servings if you have heartier eaters in your household. I added some mascarpone that needed using up to make the sauce, did not need flour. Used just a little bit of salt in the meat, as I needed to use low-sodium chicken broth to cook the meat. Chicken broth works just fine.
Thoroughly mix meat, potato, onion, egg, parsley, salt, pepper, and sage.
Shape into six patties 1/2-inch thick.
Brown in a skillet over medium heat.
Reduce heat; add boullion.
Cover and simmer, about 35 minutes, depending on the thickness of patties.
Remove patties from Skillet and keep warm while preparing the gravy.
Scrape meat drippings from bottom of skillet.
Remove excess fat, if desired.
Stir in flour and cook 3 minutes.
Add milk and bring to boil; taste for additional salt and pepper.
Serve with patties.