Potato Zucchini Pancakes ( Weight Watchers )
nicniles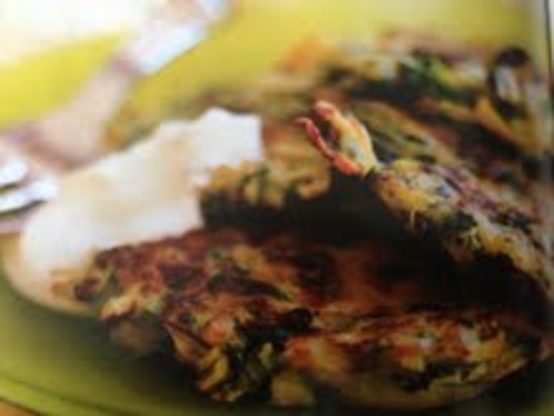 This is one of our favorite Weight Watchers recipes. Filling, flavoriful and low in calories!

I, too, am a Weight Watcher, and am always looking for tasty light recipes that I can try. This Potato Zucch.Pancake was delicious. I made this while my husband grilled Chicken breasts. We both loved it. Thanks for sharing!
Toss the potatoes, zucchini, and salt in a medium bowl; let stand 10 minutes.
Squeeze out the liquid and discsard.
Stir the egg, scallions, flour, tarragon, and pepper into the potato mixture.
Heat 1/4 teaspoon of the oil in a large nonstick skillet over medium heat.
Drop the potato mixture, 2 tablespoons at a time, into mounds and flatten with a spatula.
Cook until the bottoms are lightl browned, about 6 minutes.
Turn the pancakes over, add 1/4 teaspoon of the oil, and cook about 6 minutes.
Repeat with the remaining mixture to make 8 pancakes.
Serve with the sour cream.