Potato Wedges With Sloppy Joe Topping
Jen T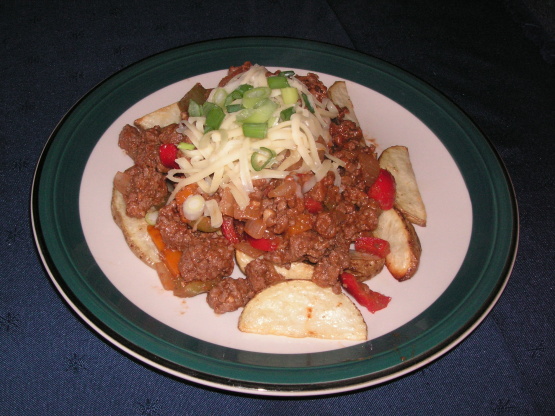 This is from The Australian Women's Weekly Mince Favourite's cookbook. You can't buy Sloppy Joe seasoning over here, so I'm not sure how authentic this recipe is. Very tasty though!
Preheat oven to 220°C.
Cut potatoes into 8 wedges. Place in baking dish and drizzle with 1 Tbsp of the olive oil.
Roast for 30 minutes, uncovered or until tender.
Heat 1 Tbsp olive oil in frying pan. Add garlic, onion, green pepper and celery. Cook, stirring, until softened. Add mince and cook, stirring, until mince in browned.
Add mustard, vinegar and ketchup, to same pan. Bring to a boil.
Reduce heat, and cook until mince is cooked through and mixture thickens slightly.
Serve wedges, topped with sloppy joe mix. Top with cheese and green onion.