Potato Water Bread (Bread Machine)
HisPixie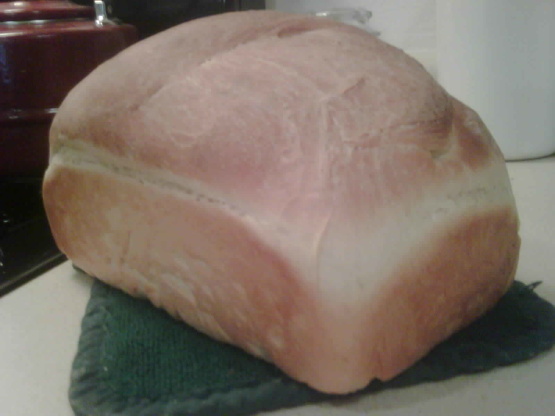 When I was little, my mom made homemade bread with potato water and I had never forgotten the taste. It was sooooo goooood!!! Since then, my mom has passed but I longed for that bread. After making a few substitutions and alterations, I think I've succeeded in being able to imitate her recipe as close as possible. This recipe calls for less yeast due to the starch content in the potato water that contributes to the rising action. The first time I made this bread, the taste brought me back to the good ol' days!! A good and tasty way to use saved potato water!!! Because this bread browns up darker than most, I would suggest a light crust setting on your machine.

I don't have a bread machine so I modified this as a standard bread recipe. I warmed the milk & potato water and dissolved the yeast in it. I combined the dry ingredients and rubbed in the butter into them. I then added the liquid/yeast ingredients and kneaded the dough. I let it rise twice, punching down after it had doubled on the first rise. Baked at 375 degrees for 35 minutes. It is PERFECT! (See photo). A definite keeper!
In bread machine pan, place all ingredients in the order recommended by the manufacturer.
Select the basic bread setting.
Bake as normal.