Potato, Tuna & Egg Salad (21 Day Wonder Diet : Day 2 )
Sara 76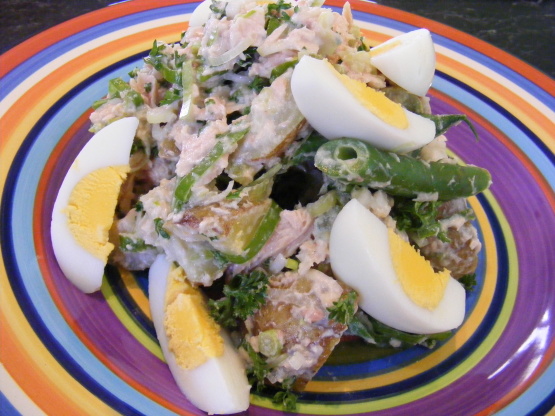 This is Day 2: Lunch, on the 21 Day Wonder Diet. You can make this salad the night before, and store it in the fridge. If you cook the potatoes in the microwave, be sure to prick them all over with a fork. This lunch is to be followed by an afternoon snack of 200g rockmelon (canteloupe).

I liked most of the things seperately, but I found the tuna to be a little too dry to mix with the potatoes and green beans. I ended up not mixing it and tossing the green beans and potatoes in some balsamic vinager and a touch of rosemary olive oil.
Boil, steam, or microwave potatoes and beans, seperately, until tender;drain, cool.
Meanwhile, make dressing by combining yogurt, rind and juice in medium bowl.
Quarter potatoes; add to dressing with tuna, onion and parsley, stir to combine. Serve salad topped with egg.