Potato, Tomato, Corn and Basil Salad
K9 Owned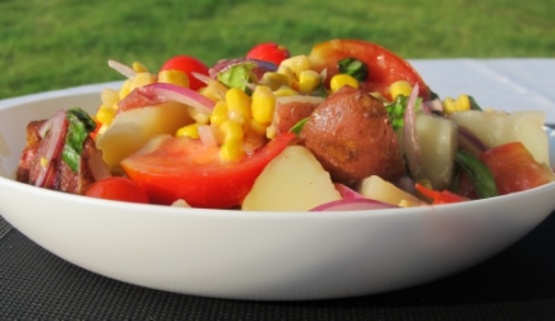 Summer in a side dish! This is a Dave Lieberman recipe that I adore. You can serve this any time of the year, but I think it's best during the summer. If you're looking for a delicious and different potato salad, this is it! **Added note - You may not need to add the entire amt. of dressing..do it to taste. I found some other reviews and suggestions at the Food Network site. If you want to check there, just type in the name of this recipe in the search box. Happy eating! :-)

We really enjoyed this salad and it's wonderful to have another option for a non mayonnaise based potato salad. I followed the recipe except that after reading the reviews opted to add a tsp of honey to the dressing to cut the tartness and I used grape, cherry and a regular slicing tomato as they were all ripe and ready. Will definitely make this again as you don't need any other sides to a meal - it's all right here! Thanks for posting! Made for Culinary Quest 2014. .
Put potatoes into a big pot of salted water and bring to a boil. Cook approximately 15 minutes or until fork-tender.
Scoop potatoes out into a bowl filled with ice water (to stop the cooking).
Cook the corn in the same boiling water for about 5 minutes.
Remove cooled potatoes to a cutting board and cut into quarters. Put in a large salad bowl.
Add corn to the bowl of ice water, until cooled. Drain.
Cut the kernels off of each ear of corn and add to the salad bowl.
Add the tomatoes, onion and whole basil leaves (you can tear or julienne them, if you want).
Add olive oil and lemon juice and toss gently to combine.
Season with salt and pepper.
Serve immediately or you can let the flavors meld.