Potato, Spinach & Chive Frittata
PaulaG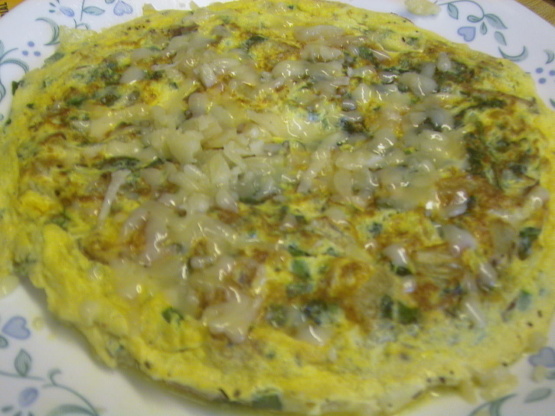 From Food & Drink - the best of the decade, this "crustless quiche" or "flat omlette"is good for breakfast, lunch, brunch or a light dinner!! You can vary the fillings - leek & bacon, smoked salmon & chives, use your imagination - but the method stays the same.

Dear C.L., I do make frittatas often. Made this recipe for tiffin yesterday and got an update from DH that he loved it. I added minced roast beef that I had made the previous night and some chopped green chillies and coriander leaves instead of the chives(was not avlbl in the supermarket) and cheddar cheese instead of the gruyere cheese (never used it it is avlbl they say but never seen it myself) and followed the rest of the instructions very religiously. (I did keep some for DS and meself too for b'fast and we gave it a thumbs up too. Fay
Heat oil& 1 tbsp of the butter in a 10 inch skillet over medium heat.
Add potatoes& saute until brown& tender, about 8 to 10 minutes.
Sprinkle with rosemary, season with salt& pepper and reserve in a bowl.
Wipe out skillet.
Wash& stem spinach; place in saucepan on medium heat.
Cover& steam until spinach is tender, about 2 minutes.
Place in colander& cool slightly; squeeze out all excess water& chop.
Stir eggs, cream, cheese, chives, salt& pepper in a large bowl.
Add potatoes& spinach.
Preheat broiler to high.
Place skillet over medium-low heat& add last tbsp of butter.
When melted, add egg mixture.
Cook slowly until bottom is set, stirring occasionally, about 10 minutes.
The top will be slightly liquid.
Place skillet under broiler until top is just set.
Turn onto a serving platter& cut into wedges.