V.A.718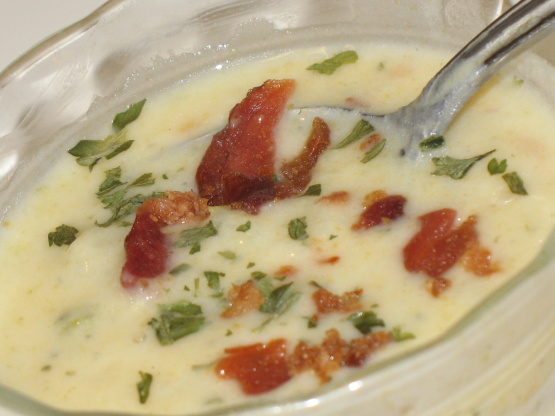 Great potato soup with a wonderful taste for anytime of the year. Don't forget to add the bacon bits to garnish for an added zip! Just double the recipe to fill your crock pot.

This was great soup! I did make some alterations. I added about 1/8 teaspoon red pepper flakes (I do that with just about everything) and 2 cups of cubed ham. Then when I added the milk and flour I also added 1 1/2 cups velveeta. I made it in the crockpot. I put everything but the flour, milk, and cheese in, then about an hour before the potatoes were done, I added them. It took about 7-8 hours on low with the potatoes in one inch dices. Oh, and I used chicken stock in place of the water and boullion. Thanks!
In saucepan combine potatoes, water, chicken bouillon, celery, carrot, onion, parsley, salt, pepper, dill weed and butter.
Cover and simmer until veggies are tender (about 15-20 minutes).
Add 3 1/2 cups of milk heat until hot.
Blend flour with 1/2 cup milk stirring till smooth, then stir in soup.
Cook, stirring constantly until smooth and bubbly.
Sprinkle bacon bits over the top and serve.