CarolAT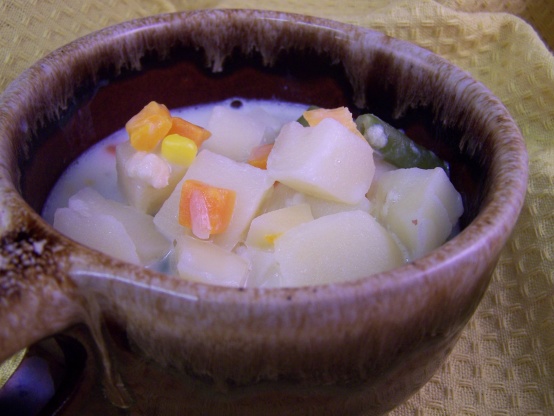 I received a recipe from my grandmother and altered it to what I had available at home. It turned out fantastic and I've made it the same way since.

This soup has great potential with the potato and vegetable combination. However, fixed as is, it turned out too thin and bland for me. Next time I prepare this soup, I will cut the 8 cups of milk in half and mash up some of the potatoes to thicken the mixture. To add a little more flavor, I will add more salt and pepper as well as some chopped green chilies or red pepper flakes. I will also add grated cheese on the top when serving.
8

cups red potatoes (cubed)

1

teaspoon salt

1

teaspoon pepper

2

teaspoons minced garlic (optional)

3

tablespoons chicken stock
1 1⁄2 cups mixed frozen peas and corn (or carrots)

1

(14 1/2 ounce) can French style green beans (optional)
1⁄2 cup wheat flour (or white)

1

cup onion
1⁄2 cup butter (8 tbs or 1 stick)

8

cups milk (I use powdered milk about 2 c. powder 6 c. water)
Cube Potatoes and finely chop onions.
Add Potatoes, onion, corn, peas, salt, pepper, garlic, and chicken stock to large pot.
Just cover vegetables with cold water and boil for 15-20 minutes.
Prepare milk (if using powdered milk).
Scald milk by placing it in a pot on medium high heat until small bubbles form around the edge of the pot.
Chop butter into smaller pieces and place in a mixing bowl with the flour.
Pour 3 cups of scalded milk into butter mixture and beat with a wire whisk.
Add remaining milk to soup.
Add green beans to soup.
Add thickened milk mixture to soup.
Simmer on low 15 minutes.