Prep 15 mins
Cook 30 mins

Good potato soup on a cold night. Can be doubled and more.
Directions
Peel and slice potatoes.
chop onions and celery.
Saute these ingredients in 1 1/2 tablespooons of butter.
Add boiling water, enough to cover.
Add salt and bay leaf.
Boil the veggies until the potatoes are tender.
remove bay leaf.
Put them through a ricer or blender.
Beat into the potato mixture 2 tablespoons butter.
Thin the soup with your choice of milk, cream or chicken stock.
Add salt and pepper to taste.
Add worcestershire sauce.
stir and bring to near boil.
Serve garnished with parsley and chives.
Most Helpful
So unbelievably good, Dorothy! I made this last weekend and never got a chance to post a review. I used yellow potatoes and vidalia onions so my soup was somewhat sweeter than it might have been with different varieties of those things. I loved it! Thanks for the recipe!

Flavor was a bit lacking. Maybe I processed it a bit too long, but shouldn't have tasted any different. Also, I noticed something red or orange in the picture, but nothing similar in the ingredients. Guess I just love the flavor of some bacon or sausage in potato soup and prefer the old fashioned chunky variety.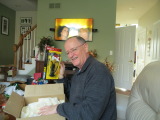 A delicious soup!!! I added 2 small chopped carrots since we are carrot-lovers. This recipe was quick and easy. I will be having this soup again because DH loved it also! Prepared as a participant in the Two for One - Leftover Event January 2010 in the Cooking Photo Forum.