Potato Skins With Chile Poblano
teresas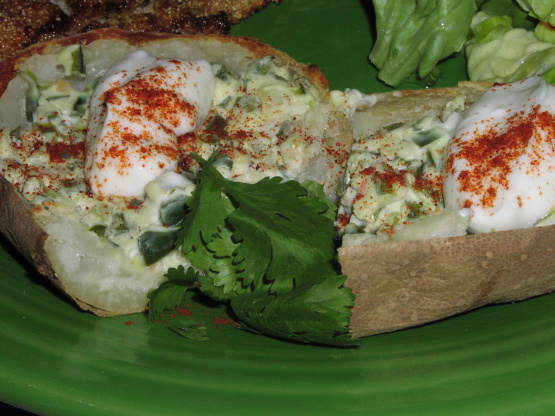 These have less than 3 grams of fat per serving! I have not tried them yet, but they sound interesting. Cook time includes the time needed to bake the potatoes.

I'm not leaving any stars, both DH and I felt that this just didn't work for us. I love all the ingredients but putting them together...did work for us. We think we will just stay with the old stand by potato skins. Thanks for letting us try your recipe. :)
Preheat oven to 400 degrees.
Cut potatoes in half lengthwise and scoop out pulp, leaving 1/4" shell. Save potato pulp for other use. Place potato skins on large baking sheet skin side down and bake for 5 minutes. remove from oven to cool.
Soak chiles in warm water for 15 minutes to soften. Dry, then mince. In a non-reactive bowl, combine chiles, Neufchatel cheese, celery, garlic, ginger root, and white pepper. Let this mixture set for 5 minutes to blend flavors.
Fill each potato skin with an equal amount of filling. Bake for 10 minutes. Let cool for 5-10 minutes, then cut in half cross-ways to make 24 pieces.
Top with fat-free sour cream and garnish with cilantro and paprika.