Leslie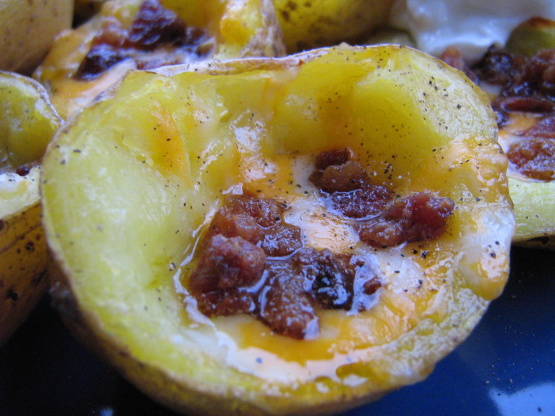 Feel free to add other types of cheese or toppings such as cooked ground beef with taco seasonings, salsa, mushrooms, ham caramelized onions or broccoli.

One of my favorate foods! This recipe is very easy to make and too good to be true. I used garlic flavored olive oil (Trader Joe's)and the baking produced crispy shells without all the fat. I will use this recipe often.
left over potato skins, with some potato still on from baked potatoes (wedges)
cooking spray
shredded cheddar cheese or cheese, of your choice
bacon, fried crispy
Coat a baking sheet with cooking spray.
Place the skins on it and then brush them on both sides with olive oil.
Bake at 350 degrees for about 20 minutes, or until they become crispy.
Sprinkle grated cheddar cheese and bacon pieces over the skins and bake a few minutes until the cheese is melted.
Serve with sour cream, adding chopped scallions if you like.