breezermom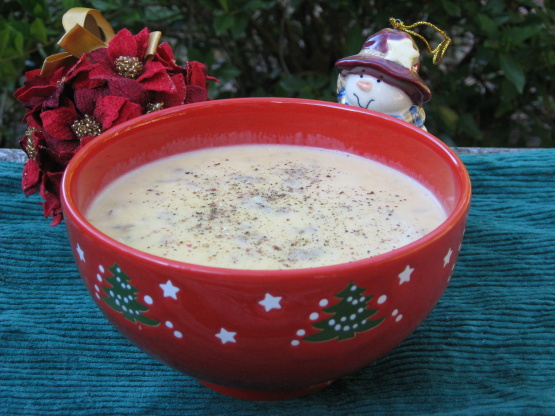 Potatoes, breakfast sausage, and cheese combine to make a hearty soup. I use reduced fat sausage so you don't have to drain off the fat. Great with cornbread and salad for a comfort food meal on a cold night.

I initially mashed the potato and was not pleased with the consistency of the soup, so I added more chicken broth (4 Cups) and peeled a 16 oz baked potato and chopped it to add some chunky potato. I agree with the reviewers who did not mash the potatoes completely. Wish I had read the reviews before I started. Instead of regular breakfast sausage, I used a hot and spicy sausage (Jimmy Dean) and used a white Vermont cheddar cheese. To perk it up, I added a tbsp of rosemary and garlic seasoning mix along with about a tsp of black pepper and 4 chopped green onions. We are serving it today in our restaurant (its cold and rainy) and should be a nice lunch.
Brown sausage and onion in dutch oven until no longer pink. (If using regular sausage, drain and wipe out bottom of pan.).
Add chicken broth to sausage and onions and bring to boil.
Add potatoes and simmer on med high for 20 mins or until potatoes are soft.
Remove from heat and mash potatoes completely.
Add evaporated milk and cheese and stir until cheese is melted.
Add garlic powder and cracked pepper to taste.
If you like a thicker soup, add a little cornstarch or flour for thickening.