Potato Salad With Yogurt and Mustard Dressing
PetsRus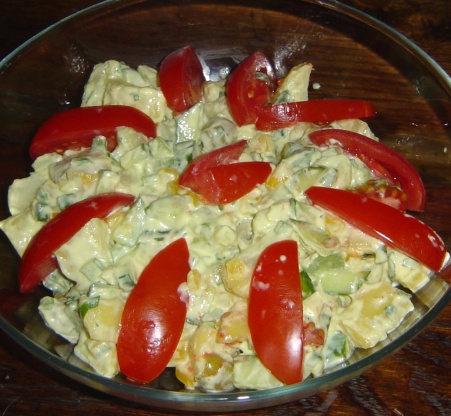 This came about trying to clean out the fridge, I now actually shop for the ingredients. The amounts of the ingredients are not too strict, so you might have to adjust the amount of dressing. Depending on the type of potato I sometimes don't peel them.

It was great I added one little packet of sweetener like my grandma did but it tasted not like my grandmothers but,stood all on its own with New, unique, flavors of today.
1

lb waxy potato, peeled, cooked and cubed

1

chopped red onion
1⁄2 cucumber, washed, not peeled, cut into small cubes (remove the seeds if there are many)

1

finely chopped celery rib
1⁄2 bell pepper, any color, chopped

10

olives, halved (green or black)

2

hard-boiled eggs, chopped

2

tablespoons chopped parsley

2

tablespoons chopped mint

1

cup thick Greek yogurt

1

tablespoon mustard
1⁄2 teaspoon cayenne pepper

1

tablespoon capers, roughly chopped

2

minced anchovy fillets (or salt if you do not like ansjovies)

1

large garlic clove, crushed

2

tomatoes, cut in wedges
Mix together in a large bowl: potatoes, onion, cucumber, celery, bell pepper, olives, eggs, parsley and mint.
Mix the yogurt with the mustard, cayenne, capers, anchovies (or salt), pepper and garlic, taste and adjust the seasoning to your taste.
Gently mix the dressing with the salad, transfer to a serving bowl and garnish with the tomatoes (and more olives if you like).