Potato Salad With Creamy Blue Cheese Dressing
French Tart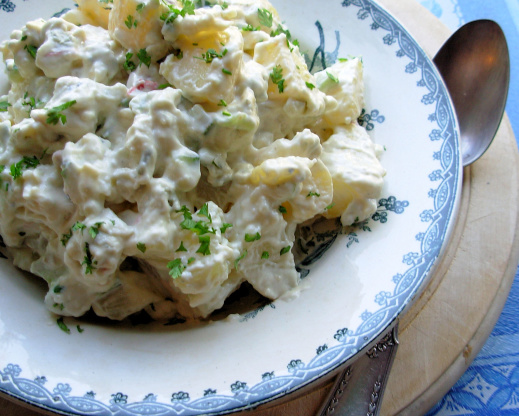 Thick and creamy are the standards for a great blue cheese dressing. If you're using this for a spinach salad, simply thin with milk or buttermilk. We loved this potato salad, it's very different! This recipe is by Heather Trim from Food and Drink Magazine.

Top Review by Merlot
This is an outstanding potato salad. The dressing definitely puts it over the top. The ratio of ingredients is right on. The lemon juice and hot pepper sauce gives it the right amount of zip without being too heavy. This dressing would also be a perfect topping for baked potatoes. Great recipe, ~Leslie~k it's not only tasty but has great possibilities for other uses. Thanks for sharing it.
Peel potatoes if you wish, then cut into bite-size chunks. Place in a large saucepan of salted water, set over high heat and bring to the boil. Partially cover and simmer until potatoes are just tender, 8 to 10 minutes.
Drain well, then set aside in a bowl. While potatoes are still hot, toss with 2 tbsp lemon juice.
Meanwhile, cook bacon over medium heat until crispy. Set aside on a paper-towel-lined plate, then crumble.
For dressing, whisk mayonnaise with sour cream, lemon juice and hot pepper sauce in a bowl.
Stir in ½ cup (125 mL) blue cheese and green onion. Taste and if desired add remaining blue cheese, salt and pepper.
Stir dressing with cooled potatoes until mixed. Add bacon, red pepper and green onions.