Potato Salad With Chipotle Peppers(A Man's Salad)
Rita1652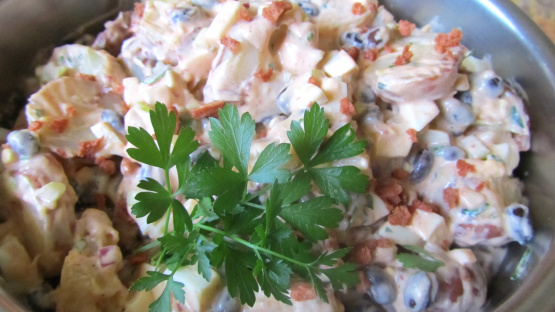 Warning WARNING !! This Tex Mex salad is Very SPICY !!! Use your best judgment in how much Chipotle peppers you use. Taste as you add just don't dump them all in. Each pepper has it's own heat level. Yes us Girls love it too! ;)
A hose under the sink broke and started flooding the kitchen when I was in the middle of making this. :( That's my excuse for totally forgetting to add the black beans. Didn't seem to matter, though, since everybody agreed it was sensational. I used 3 chipotles, seeds and all, and the heat level was actually pretty mild. Thanks for a really top-notch recipe, Rita! Update: Six years and a whole lot of bowls of potato salad later, I don't think I've ever served this to anyone who didn't rave. So many people told me at a cookout last weekend that it was THE BEST they'd ever tasted that I just had to thank you again for sharing this wonderful dish.
1⁄2 red bell pepper, diced

3

scallions, finely sliced
celery, sliced

1

tablespoon fresh cilantro or 1 tablespoon parsley, chopped

1

cup mayonnaise

2 -4

chipotle chiles in adobo, deseeded and diced finely (or more, use the seeds if you like the heat)

1

tablespoon sugar

8

slices bacon, cooked very crisp and crumbled reserve 1 tablespoon for garnish

1

(15 ounce) can black beans, rinsed and drained

6

hard-boiled eggs, diced

8

medium red potatoes, cooked, cooled and diced
salt & pepper
Mix first 7 ingredients together.
Toss in remaining ingredients except 1 tablespoon bacon and salt and pepper.
Mix well.
Taste to see if you need to add salt and pepper.
I myself like lots of pepper.
Top with bacon bits.
Chill& Serve.