Bev I Am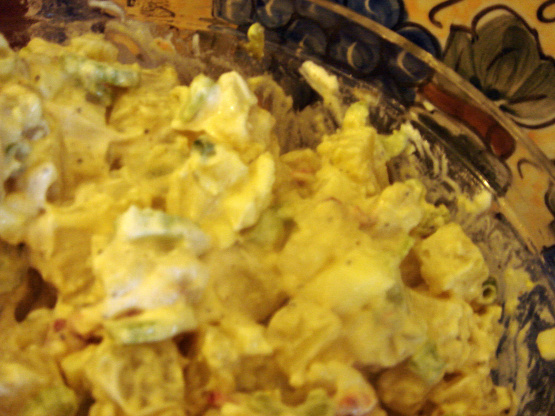 From A Little Taste of Texas cookbook. This is my favorite potato salad and since I don't like hard-boiled eggs, I leave those out of the recipe when I make this particular dish. This is a very creamy potato salad.

Is this an incredible potato salad! I made as directed, however I did not use all the mayonnaise/sour cream dressing on the salad. I only used enough to coat the potatoes, about 2/3 cup. I did not have any bottles Italian salad dressing on hand so I made some of my recipe #43522 instead which worked beautifully! Thank you, Juenessa!
Boil potatoes until tender.
While still warm, dice potatoes.
Pour Italian dressing over potatoes.
Chill several hours.
Add onions, eggs, celery, pimento and pickle relish and toss.
Then add mayonnaise, sour cream, mustard and all other seasonings, except Paprika, and fold into potato mixture.
Refrigerate.
Garnish with Paprika.