Potato Rösti (Or Beet or Carrot or Winter Squash)
awalde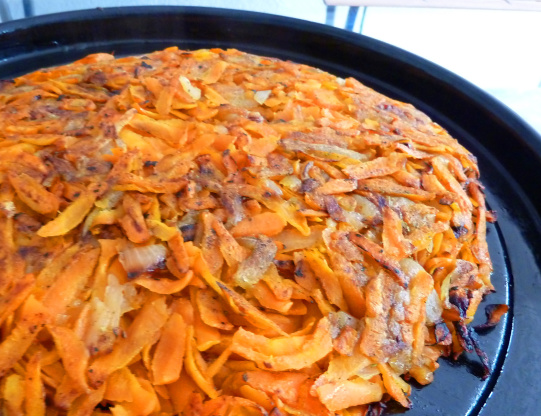 This is a delicious and simple potato cake that can be enjoyed warm or at room temperature. This recipe was found in Mark Bittman's How to Cook Everything. Edit: I've added a step to resolve the problem of the potatoes turning brown after being grated.

Top Review by awalde
Done with carrots and 2 small popatoes. Good Idea to use carrots or beets, only for this you get 5 stars!
If you prepare this with carrots and beets, it will be difficult to cut it in pieces, beacause this cannot "stick" together.
To this recipe can be added: fried onions, fried bacon, herbs (I like rosemary), spices and so one.
Done for ZWT7
Scrub potatoes well and peel them if you prefer, though it's not necessary.
Grate the potatoes using a food processor or by hand; place grated potatoes in cold water to prevent them from turning brown.
When you're ready to cook the potatoes, drain well in a colander or strainer, place in clean tea towel and squeeze out the water.
Heat a large cast iron or nonstick skillet over medium heat (I like how cast iron browns food).
Toss potatoes in a large bowl with a generous amount of salt and pepper.
Heat large cast iron or nonstick skillet over medium heat (I like how cast iron browns food), add 2 tbsp of oil or butter to skillet and heat (until the butter begins to turn brown, if using).
Put potato mixture into skillet, shape into a circle and press down with a spatula.
Turn heat up to medium high and cook, shaking pan occasionally, until the bottom of the potato cake is crisp (about 6 to 8 minutes).
Slide potato cake onto a plate, top with another plate, invert plates.
Add a bit more oil or butter to the skillet and slide the cake back inches.
Cook until the second side is browned. You may have to adjust the heat. (about 5 to 10 minutes).
Cut into wedges and serve.