Nimz1466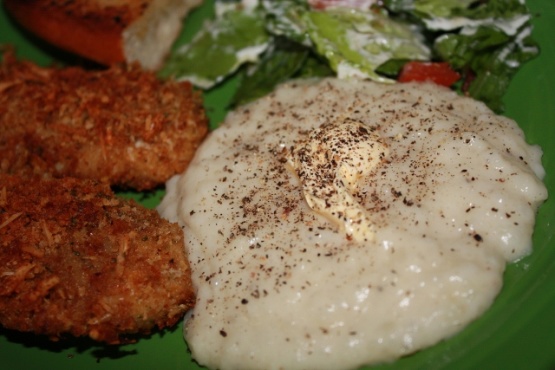 It is like at American mashed patatoes, just more creamy and soft. It is one of the most beloved kids side dish, and adults too, of course! Also it is perfect to go with many different dishes: grilled steak, oven baked chicken, fried chicken, roast, fish. You can be sure!

These potatoes were excellent and so creamy. I loved the hint of nutmeg. I gave it 3 small shakes, but I'll use more next time. Used 2% milk and light Smark Balance Butter spread to lighten it up a little. Loved the addition of the parmesan cheese. Served this with recipe #413032 and a salad and made for a wonderful meal. Thanks so much for sharing. Made for Spring PAC 2012
Choose potatoes more or less of the same size and not too big.
Boil the unpeeled potatoes in salt water for about 40 minutes. Of course, the cooking time depends on their size. To be sure, you can always check the right cooking time, pricking them with a fork.
It is hard, but peel the potatos while they are still hot.
Now cut the potatos to uniform cubes, mash them with a potatos masher or elettronic mixer.
Put the mashed potatos in a saucepan in a low heat, add cubed butter and hot milk a little at a time, always stirring with a wooden spoon, being careful do not let form lumps.
Our puree should be creamy and smooth, but not watery: pay attention to not add too much milk then.
Add salt to taste, a pinch of ground nutmeg, black pepper (if you like).
For tastier Potato puree add 2-3 tbps of grated parmisan.
Stir all ingredients together again, then remove it from heat, and that's it!
Your Potato Puree is done: eat it immediately!