Jen T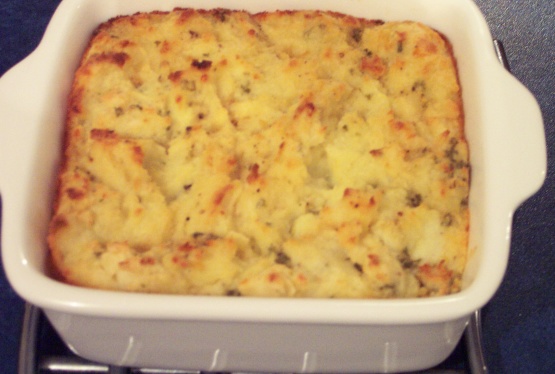 This is major comfort food in our house. I usually make this as a side dish to go with fish, but my kids like it all on its own.

Top Review by Barbie
Yum! Another great recipe from Mirjam! :0) Nearly my whole family loved it (a major feat). Mine never really puffed, I don't know why. Best guess is that my mashed potatoes were too soggy to begin with, or it could be that my cottage cheese was low-fat (runnier?). I just used leftover mashed potatoes, which had been whipped with canned chicken broth (instead of my normal stick or butter) to make them lower fat, so I left out the salt and pepper called for in the recipe. Even though it didn't look as pretty as it might of, the taste was excellent, and I will definitely make this again!
Combine the potatoes, sour cream or yogurt, cottage cheese, onion, salt and pepper, and place into a greased 2-quart casserole.
Pour on melted butter.
Bake at 350 degrees for 1 hour or until puffed and golden.