Heydarl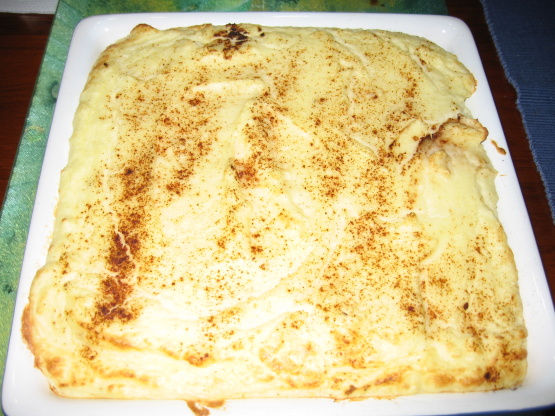 This is one of those comfort foods my mom makes for me when I was sick as a child. I have always been "sickly" and had pneumonia quite a bit and had to even be home schooled for a while in 1st grade. I could manage to keep this down because it's pretty light and it made me feel special because she always made it at my request.

Very good just as it is. Easy to dress up this recipe by adding little extras like your favorite cheese or spice. I made them in individual baking cups for my family with each one seasoned the way they wanted.
To the mashed potatoes, add the butter, milk, and the lightly-beaten egg yolks.
Beat the egg whites until stiff. Fold them into the well-blended potato mixture.
Pile the mass into a well-greased baking dish. With the back of a spoon, make pretty waves (like you would a meringue) in the potatoes and sprinkle with paprika. Also, dot with extra butter, if desired.
Bake at 375 for 20-30 min, just until potatoes start to look a bit dried out and start to brown. Let cool a minute or two and serve.