Potato Pockets Filled With Spinach-Chili
Satyne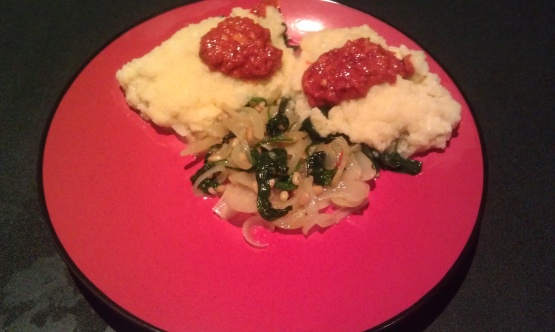 From the magazine of a local grocery. The potatoes have to be starchy potatoes! I haven't made this recipe yet, just posting for safe keeping. The magazine didn't say how many pockets you'll get, so I can only guess that it's meant for 4 servings.

Top Review by Satyne
Please forgive my bad photo, this recipe was a bit of a nightmare unfortunately. I suspect I had the wrong type of potatos. The pockets wouldn't hold together at all for me. I only got 2 serves out of this and ended up mixing everything through because (since the pockets didn't work) the pockets were a bit bland. The filling part of the recipe was very nice and I think it would be a nice side dish all on it's own. I topped this off with your Pimento paste and stirred that through too. Once it was all mixed up it was quite nice. Sorry I couldn't say great things about this one bub. Made for PAC Spring 2013
Bake potatoes at 320 F about 1 hour.
Let cool until just warm, peel and puree.
Mix pureed potatoes with 2 egg yolks, starch butter and salt, pepper, nutmeg to taste.
Roll out dough thinly (about 1/4 inch) between two sheets of baking paper which are dusted with some starch.
Cut out as many rounds of 6 inches diameter as possible.
Generously sprinkle cookie sheet with polenta.
Carefully, using a spatula, place dough rounds onto polenta sprinkled cookie sheet. Refrigerate.
For the filling, saute finely chopped shallots, garlic, chili and whole pine nuts in 2 1/2 ounces butter. Add spinach, saute shortly, season with salt, pepper, nutmeg to taste.
Cream remaining egg yolk, baste dough rounds with egg yolk and place 1 tablespoon filling on one half of each round.
Put aside remaining spinach filling.
With a spatula, carefully flip other half of dough rounds over and seal rims, pressing lightly with a fork.
In a large pot, bring slightly salted water to a slow boil, carefully place dough pockets in simmering water, let simmer for 3 - 5 minutes.
Place remaining spinach on plates. Get pockets out of the boiling water, place on bed of spinach. Pour molten butter over the pockets, if desired.