Rita1652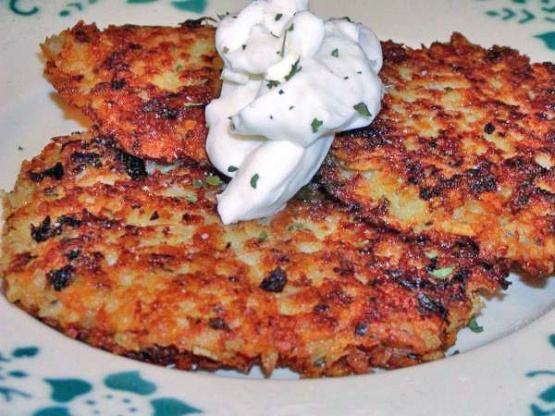 These can be served with sour cream or apple sauce. As a side or appetizer. My Mom made them in a blender but I think grating them is more time consuming but you'll get a better texture. I'm posting these for world tour and because my DH's requesting them!

I haven't made this version as well either but it does sound delicious. However, I do totally agree with yankee kat that practically nobody's recipe I read ever calls for potatoes that are so finely grated that they appear to be mushy. Being Lithuanian in decent that's the only way my parents and grandparents ever made them. I do own a grater that yankee kat is referring to as well as an automatic grater my father designed that's gets the same results with 10% of the effort. If you need to discuss the grater contact me at greggk@izoom.net
Finely grate potatoes and rinse with cold water 3 times till water runs clear. Add potato, onion in a large bowl with garlic. Drain and press out as much moisture as possible, using paper towels.
Add egg yolk, flour, salt, peppers and parsley. Mix thoroughly.
Fold in egg white.
In a heavy skillet, pour in 1/4-inch of the oil and heat over high heat. For each pancake, drop in a heaping tablespoon of the mixture and press down with spatula. Brown until crisp on both sides.
Enjoyed season with salt and pepper.