PaulaG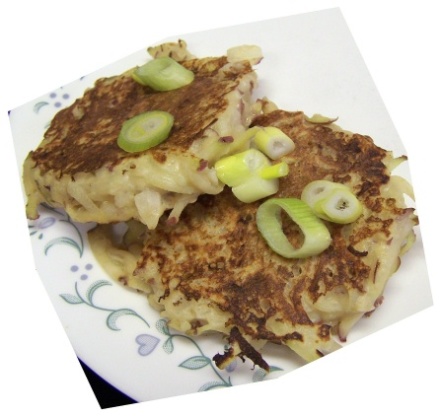 Potatis Platter This is my Aunt Eva's recipe. My kids love these with maple syrup and my Dad asked for them all the time. They are usually a little wet after mixing which makes it easy to "plop" them on a hot griddle and pat them out a bit. Filling and delicious! If you find you are having problems with soggy pancakes, you might want to put your grated taters in a cloth and squeeze as much of the water out of them as you can. You can also soak the grate in cold water, then wring them out. For OAMC: brown the patties well but don't cook them all the way through. Flash freeze individually and keep in a ziplock bag in the freezer. They will keep for quite a long time. To use: thaw desired number of patties and reheat them in a hot frying pan with a bit of oil or on a greased griddle.

Heat griddle until water drop dances on it.
Beat all ingredients well.
Place 1/4 cup of batter on grill.
Fry each patty for 2-3 minutes until golden.
Turn and repeat.
Serve hot.