Juenessa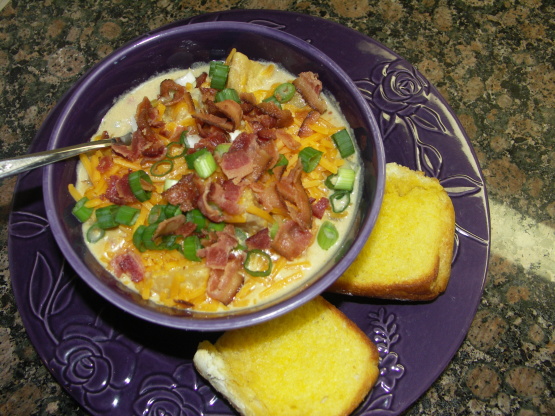 Great on a cool, Fall day. We love it garnished with plenty of cheese!

We loved this soup! It is like eating a loaded baked potato, but better. I made this even quicker and easier by using frozen, chopped onions and 1.5 -- 24 ounce bags of French Onion Oven Roasted Potatoes. Both of these items are carried in the frozen section of my local grocery store. This was a wonderful dinner and one of the best soups I have made. Thanks, CookinMamaof2!
Combine potatoes, onion, salt and pepper and enough water to cover in large saucepan.
Bring to boil and cook until tender, stirring occasionally.
Drain partially.
Stir in milk, butter and instant potatoes. Cook until thickened, stirring constantly.
Add pimento and mix well.
Serve garnished with bacon, green onions and cheddar cheese.